The argument which was left unclosed…
On the fly with the news, I hastily posted an entry on the status of Facebook's translation to Vietnamese project. That entry was left unfinished with a big gap between my premise and my conclusion.
So here I am to fill the that gap with more complete points
…urged me to review basic principles of the market…
The search for the answer reminds me of two articles that should be read going further into Facebook's strategy
"Facebook is a relationship-centric SNS"
***
"As with the overseas Vietnamese students, we tackle them by word of mouths. So far, we have identified a number of key Vietnamese student networks in the US and the UK. But again, it depends largely on "viral effect" – one person sign up, love it and spread it to others. We have great faith in our product and are working hard to constantly improve the system. So yes, we plan to use a combination of word-of-mouth and traditional outreach strategies."

Khoa Pham & Thanh Le, Interview with faceViet's CEO
Leave these points here, we'll come back to them later.
…to get the foundation questions answered
1. How does Facebook acquire users?
Facebook started off in Ivy League's colleges. Then these students introduced the website to their connections. More and more joined and used the service because it was a useful product.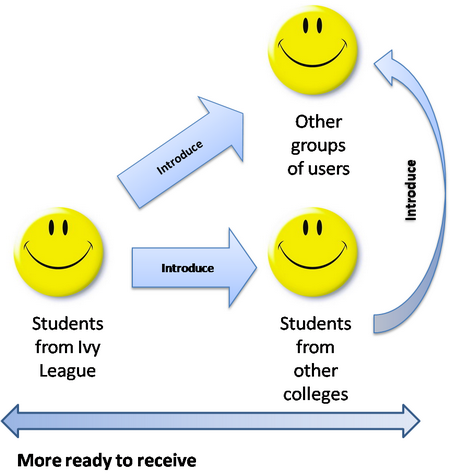 That's why we say Facebook is a relationship-centric SNS. The motivation for users to use Facebook is mainly their connections. Facebook's user acquisition is organic and natural as long as it remains useful a product to the users.
How about Vietnamese users? A picture is worth a thousand words
2. What builds reception readiness?
In the illustration, I put my hypothesis on reception readiness of Facebook particularly and the social network concept as a whole.
So what found this readiness in users?
1. The use of interactive IT systems in their work/study
Emails, KPI management systems, deal tracking systems (yes, CRM or issue-tracker if you're more familiar with either of them), e-learning systems, version control systems, discussions boards, digital submission systems, scheduling (or timetabling) systems, accounting systems, payroll systems…
The more proficient people with (some of) these systems, the more ready they are to use interactive SNS.
How familiar are the majority of Vietnamese students with these systems?
2. Media coverage & user educating
Or how well the media educate potentials users of the values SNS bring them.
User educating is not PR; it's about values. It should not involve throwing the product on users; it's about attracting them. It's not about exposing your greed selling to users first; it's about solving their problems first.
3. Water the root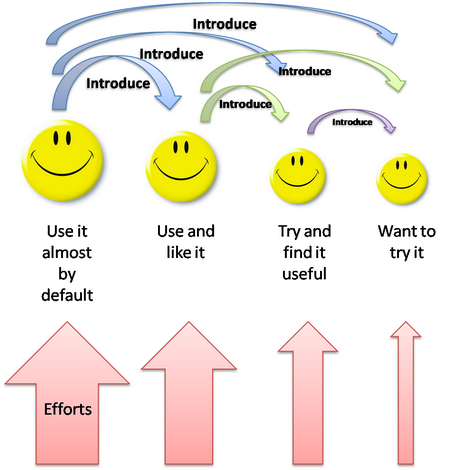 Correctly if I'm wrong, but I believe that spending more efforts on power users would reinforce the organic introduction loop.
Where is the root of Vietnamese SNS users? Mr. Thanh Le from faceViet mentioned his point above and I agree with him.
3. Why will Facebook dominate the Vietnam market when they launch?
1. Because Facebook has the root of the roots.
2. Because Facebook is mature in all product, brand recognition and business model, if compared to other competitors from local market.
3. Because Facebook will stand longer. This crucial point is usually, and possibly intentionally, ignored in many discussions on SNS in Vietnam. All Yahoo! 360 users have gone through the fear of losing their contents and social graphs. They will make judgment in choosing the next destination! I think they are smart enough to know how big (which in turn means stable) the world's biggest SNS is and how long it is going to last store their contents and social graphs as compared to competing services.
But Facebook doesn't satisfy the needs of many Vietnamese users…
What do the majority of Vietnamese users need now?
A blogging platform? Well, Facebook is relationship-centric, not content-centric. Nevertheless, it has a powerful Notes application.
Media sharing? Well, Facebook is relationship-centric, not content-centric. Nevertheless, it is launching a music site.
Customization? Well, Facebook is relationship-centric, not ego-centric. Nevertheless, certain application allows users to customize their page.
Facebook is overwhelming with feature. Well, writing on walls, sending messages and uploading photos are way too hard it took me forever to learn. Fortunately, Yahoo! 360 and Flickr

did

are doing very well to educate users (including me) on these three extremely difficult tasks. Other features? If you don't like them just leave them be, they won't bite.
OK, leave the details there and take one step back to look that the big picture.
Vietnamese users, in their first experience with Web 2.0, were given a blogging platform (Yahoo! 360) and very basic social networking features. They want a place to communicate, express and share. The options for them were way so limited while local services are still not mature, or in other words, many Vietnamese users have not used a full relationship-centric SNS yet. We don't know how Facebook will change their preferences until it does. This we don't know, doesn't make an argument whether Facebook satisfies their current needs or not. Reality will answer.
Conclusion
This entry fills the gap I left from my previous argument: Facebook will dominate.
How do you disagree with me? Or which service do you think will challenge Facebook?
Acknowledgment
With special appreciation to these people for helping me with this post:
Duy Doan, VCCorp
Thu H. Nguyen, Australian Consulate General
By