I could not find the industry structure of social media, so I decide to graph it, piece by piece.
We've been talking about early adopters and near-future critical mass. What links them?
Here is what I propose: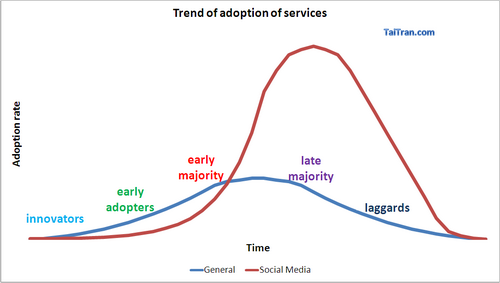 Characteristics
Cause
General trend adoption is polynomial, social media's is exponential

Adoption is done virally
Technological platforms for mass and viral WoM
A reflection of Chris Anderson's The Long Tail (see below)
Adoption of products from the blue oceans

The number of innovators and early adopters is very small compared to the critical mass
High cost of learning for majority
Absolute value of critical mass is high

Low cost of acquisition
One-to-many relationship between consumers and services of the same category

Abandon rate is high

Low cost of exit criteria for providers
Moderate cost of exit criteria for consumers, mostly from social graph pressure

Social media adoption is not symmetric
Influencing factors are not symmetric
Till this point of this entry, late majority and laggards never existed
Social media is very young
Any example?
See this measure of unique visitors, which services do you think it represents?
Click here to see the answer.
Reflection
This is a personal attempt to model one aspect of an industry
The decline is purely imaginary as few successful products have reached their decline.
I'll figure out to whom and how I will want to present this type of modeling.
By