Posts tagged: enterprise
1. Introduction
This article discusses implications behind the adoption of a "2.0" approach to corporate management. This article is built on and extends the introductory discussion of an FPT HR representative on their application of 2.0 to internal communications. It seeks an equivalent position of the 2.0 characteristics within an organization. Basing on this finding, recommendations are given to FPT.

Hi TaiTran,
Ko hiểu youtube có lỗi hay do mạng lởm nên tôi ko trả lời bạn trực tiếp được tại video trên youtube. Quản trị 2.0.
Quản trị 2.0 là khái niệm được FPT nhắc tới bắt đầu từ 2008, đơn giản là ứng dụng 2.0 vào công việc quản trị. Các bạn chắc biết rõ hơn tôi về web 1.0 và 2.0 và biết sự khác biệt giữa 1.0 – tiếp nhận thông tin 1 chiều và 2.0 tăng tính tương tác.
Quản trị 2.0 tương tự:
– Đưa ứng dụng web 2.0 vào việc quản trị. Ví dụ mở các kênh tiếp nhận thông tin từ nhân viên qua blog công ty để lãnh đạo lắng nghe ý kiến nhân viên tốt hơn. Các lãnh đạo tự mở blog cá nhân để chia sẻ về suy nghĩ bản thân, truyền tải thông điệp lãnh đạo (ko nhất thiết trong công việc) để gần hơn với nhân viên và tiếp thu thông tin.
Hiện FPT đang có kênh 2.0 đặc trưng là: Chợ Dưa FSoft – chodua.com và FLI Blog: fli.fpt20.com, là kênh internet có thể truy cập. Còn các forum, mạng nội bộ khác chỉ dành cho nhân viên FPT. Đặc điểm ẩn danh cho phép nhiều người được nói thẳng nói thật ý kiến và cả các bức xúc của mình trong công việc hay comment thoải mái về các chính sách công ty mà ko sợ lộ mặt.
Những cái này có thể nhiều công ty đã áp dụng như "học thuật" hóa thì được gọi là quản trị 2.0.
Những thông tin khác bạn có thể đọc tại fli.fpt20.com hoặc chodua.com. Mời bạn vào trao đổi! Tks!


vanbich, FPT HR representative
2. The position of the 2.0 characteristics
2a. Web 2.0 is about Communication. Is Enterprise 2.0 about Communication?
Basing on the comment from vanbich, the idea of FPT 2.0 is to provide channels and facilities for their employees to communicate with one another and with leaders.
At first, it seems sensible given light that a Web 2.0 product provides platforms for its users to communicate and share information with one another. And users do this with purposes.
Some examples of Web 2.0 products:
Product
Effective communication channels
Purpose of product creators
Main purpose of users
WordPress
Provide a collaborative blogging platform
Share & aggregate knowledge
Facebook

Walls
Media
Comments on most items
B2C: Public Profiles
…a few others…

Provide means for people to explore one another's activities
Provide technical platform

Explore connections' activities
MySpace

Verbal comments
Non-verbal expression through media and page styling

Provide means for people, especially artists, to show off their interests
Express their ego
Twitter

Provide viral platform
Provide technical platform

Viralize their contents
Quickly update their activities
How are "2.0 communication" and FPT's explanation linked together?
It's useful to map the idea:
Figure 1 – trying mapping web 2.0 product and enterprise 2.0: incorrect
While we see that the total scale of a Web 2.0 product is allow Communication, the total scale of an Enterprise is much larger than that. We want to revise the 'conventional' enterprise:
Figure 2 – simplified model of a conventional enterprise
That is the full scale of an Enterprise. Communication plays an important role, but does not take up entirely its operations.
So how do we map it more precisely?
2b. Here is what I visual it: mapping between two 2.0 entities
Firstly, as we know that communication is the main activity of a Web 2.0 product, it is important to find out what is the main activity of an Enterprise. As from figure 2, the main activity of an enterprise is Production and/or Providing Services.
Secondly, it is important to characterize the style of communication in Web 2.0 products so that we can do the same on the style of production of an enterprise.
What best describes "multi-directional" and "decentralized"? It is autonomous. People in the 2.0 sphere communicate autonomously and are responsible for their behaviors.
Combining these two findings, here is what I propose the mapping between a Web 2.0 product and an Enterprise:
Figure 3 – mapping web 2.0 product and enterprise 2.0
At full scale, the applied 2.0 characteristics does not only involve open and partially anonymous communication, but reach the level of autonomy in production.
3. Some considerations
It's easier for startups than for an established company.
Think about Google. It had been famous for its anti-corporate culture at the first days. As the company becomes mature, corporate issues start to emerge.
Does the structure of the company make it reasonable to build autonomous teams/divisions?
Does the culture of the company and the culture of the society make it reasonable to build autonomous teams/divisions?
How ready are the employees, in terms of capability and mentality, to be autonomous?
Autonomous, together with self-directed communication is not new. It traces back to 1970s and Motorola, Xerox, AT&T and so on. However, it might be new to Vietnam.
4. Some recommendations for FPT toward 2.0
Select mature teams to build autonomy
Delayer these teams
Allow (sometimes dramatic) changes in structure, culture and mentality
Allow (sometimes dramatic) changes in personnel management and resource allocation
Treat this as on-going experiment
Benefits:
Bring the "2.0 spirit" to the company as leaders desire
Increase innovation
Reduce cost, especially management overhead
Reduce absenteeism
Identify unofficial leaders of the teams in addition to the existing leadership training program
5. Summary
Changes in production characteristics, rather than sheerly in communication, reflect the full-scale shift within an Enterprise. Analyzing Web 2.0 characteristics leads us to autonomy. Whether and how FPT will implement it is interesting to observe. The implications of recommendations in this article go beyond social media, product management and technology companies to leadership generally.
6. Reflection
It has been challenging and exciting to write this. The excitement was how I can link seemingly scattered parts of my knowledge to form a cohesion piece of consultation – something I love doing. The great challenge lies in the idea of evaluating a big, established, known and loved company. Nevertheless, if I want to learn, first thing first, I must dare the keyboard discussion.
By
The Dilemma
When designing screens for enterprise systems, I frequently face an issue. There are too many fields to present for a user to complete an action (i.e. manage an order transaction). In terms of cohesion, since these fields serve one purpose, they should be put in one screen. But again, too many!
Too many of them clustering in one screen makes it look like a mess with texts, numbers and boxes. Not nice at all!
New design trends pushes this even further
The new design standard introduces alternating colored grids, text boxes with strong borders. All of these increase to size of elements, thus will make the screen narrower.
So we face a dilemma: should we put all relating fields in one screen, or break an action into multiple screens?
Put all in one screen
or
Break the information into multiple screens?
What's your Focus?
There are a couple of things you can do:
Review GUI Design Guidelines
Review a high level document (i.e. Vision) to determine what the system is for and what it should look like in general
Create different prototypes and propose them to the customers
The most important factors
Some factors to look into when composing your own solutions:
Number of clicks
Because user's interaction with system is done chiefly through mouse motions, number of clicks is considered one of the most important factor of GUI design.
Most of the cases, my experience is that with a little twist in design, number of clicks can be reduced from 3 to 2. Not so frequently it can be cut down dramatically. 1 click seems trivial. However, a user may perform that action a thousand times per day, thus makes it worth the effort.
Efforts users have to spend to learn how to use the system
If a screen has too many fields, it would be confusing for first-time users to know how to locate information.
If it takes quite some screens to accomplish a task, it would be confusing for first-time users.
In the long run, the first solution would prove to be better when user has memorized the location of information sections.
By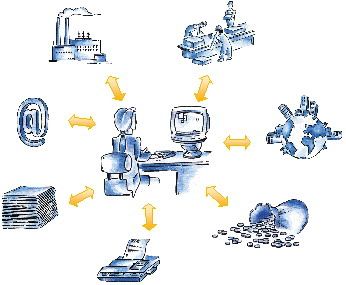 ERP is free?
At first, I could believe that a highly complex software like that of ERP can be open or free.
However, it is a truth. Some communities are really committed to engage to this sophistication.
Now here it is: ERP comes open-source!
ERP is really free?
I like the way Adempiere depicts the complexion of costs:
"Information Is Free – U have to Know
People Are Not – U have to Pay
Contributors Are Priceless – U have to Be"
Open-source ERP, like any other open-source project, is not totally intended for larger enterprises seeking highly stable software and business partnership.
Open-source ERP makes it possible for SMEs to go in for Enterprise Resource Planning at a more affordable price. This is a wise step of initiators in that this kind of collaboration would benefit both parties.
Users get the software for free, and pay a relatively reasonable amount for supports and customization
Some R&D departments from these 'purchasers' even involve in developing the software, thus enlarging the community to people inside businesses
Some companies such as Compiere offer free packages and products with fee. This gives their customers more options
Personally I don't think the "sense of open-source" including flexibility, community-knowledge, freedom and such is the most significant factor for enterprises to go for these products. They're simply looking for a product that works with a more affordable price. Instead of doing separate accounting, financial management, CRM, SCM, HRM etc., they have the option to start doing ERP at an earlier stage.
It's all about Open-source
People in Open-source community have their manifesto. Communities have gone from developing open Operating Systems to open File-Sharing, from Office to Browsers. There is no reason why they can't be doing ERP now.
Entrepreneurship & OSS
ERP has "enterprise" in it. Correct! ERP OSS is not software for individuals, but for Organizations. Enterprises. And Enterprises do business.
An ERP, though require a tremendous technology commitment, is far less geeky than any other OSS ever developed. It's business, which so unfortunately a number of geeks take a distance from afar.
Because ERP is developed to solve the problem of and boost business, ERP OSS requires entrepreneurship and business minds! That's where the leading heads and consultants are called.
Development Prospects
People talk ERP. People use ERP. People do ERP. Everywhere is ERP.
Some sell ERP. Some give ERP for free.
It's obvious, Open-source ERP is in a terribly good jumpstart to develop. If they can overcome some difficulties such as commitment, simplification of complexity and harmonization of business and technology, the future is bright for them.
And for SMEs too.
Some Open-source and Free Enterprise Resource Planning Vendors
Compiere http://www.compiere.com
Adempiere http://adempiere.red1.org
JFire https://www.jfire.org
Opentaps http://www.opentaps.org
OpenBlueLab http://www.openbluelab.org
OFBiz http://ofbiz.apache.org
SQL-Ledger http://www.sql-ledger.org
WebERP http://www.weberp.org
GNU Enterprise http://www.gnuenterprise.org
By