1. The Active Learning Student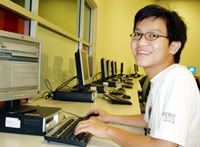 Date: 3 March 2006
Gist: how an active RMIT student studies
Trần Tuấn Tài (ĐH quốc tế RMIT Việt Nam): "Cách học ở trường mình là các thầy cô chỉ đưa ra tài liệu cho SV chọn đề tài để tự nghiên cứu rồi thuyết trình, trình bày các vấn đề nghiên cứu được. Ở các giờ học trên lớp, mọi SV đều hăng hái tham gia thảo luận để lấy kiến thức. "Bí quyết" của mình để có thể tự tin diễn đạt trước lớp là không sợ sai vì nếu sai thì đã có thầy cô, bạn bè chỉnh sửa. Qua việc thuyết trình, chúng ta hiểu rõ vấn đề hơn".
English Translation
Tran Tuan Tai, RMIT International University Vietnam Student

In RMIT, students select or are assigned the projects or research topics. We do our projects on our own, then present our products, results and observations in front of the audience. In the classrooms, all students very actively participate in activities so that we can retrieve the best knowledge from discussions. I am very confident in presenting because I am not afraid to lose face, as my instructors and classmates are willing to give constructive feedbacks for me to improve my skills.

In conclusion, presenting helps deepen our understanding in the topic.
Link: Thanh Niên Online, Phản hồi bài báo "Nạn thụ động trong học đường"
2. A Pro-active Job Hunter, 2006
Date: 21 March 2006
Gist: my job-hunting website
contact@tuantai.com là địa chỉ e-mail hết sức ấn tượng của chàng sinh viên 21 tuổi tên Nguyễn Tuấn Tài này. Hỏi ra mới biết Tài lập hẳn cho mình một website cá nhân tên miền là www.tuantai.com từ năm 2004 nhằm mục đích giới thiệu mình với các nhà tuyển dụng.

Toàn bộ website đều được thể hiện bằng tiếng Anh với giao diện trang web hết sức đơn giản và nghiêm chỉnh. "Choáng" là từ diễn tả tâm trạng của tôi khi đọc trang web này! Ngoài trình độ Anh ngữ IELTS 7.5, Tài đạt điểm rất cao (high distinction) ở hầu hết các môn học và từng nhận các học bổng, phần thưởng "cỡ bự". Ấy vậy mà Tài còn cho biết thêm: "Mình chỉ đưa ra những cái đáng nói và có bằng chứng hẳn hoi". Danh mục kinh nghiệm của Tài cũng dài dằng dặc. Tài không chỉ từng làm thêm ở nhiều lĩnh vực như: thâu ngân, thủ quỹ, PR, nghiên cứu thị trường… mà còn làm điều phối viên nguồn nhân lực của câu lạc bộ Thương mại RMIT và tham gia nhiều hoạt động khác.

Học ngành Công nghệ phần mềm ĐH Quốc tế RMIT Việt Nam, bài tập dành cho Tài ngay từ học kỳ I (học kỳ đầu tiên) là tự tạo một trang web chứa hồ sơ xin việc của mình. Yêu cầu bài tập chỉ là biết cách làm web và trang web này chỉ đưa lên mạng nội bộ của trường. Trong khi đa số các bạn làm web chỉ để vượt qua môn học, Tài nảy ra ý định mua hẳn một tên miền riêng nhằm phục vụ cho việc ứng tuyển. Không "màu mè hoa lá hẹ" như các phiên bản trước được thiết kế theo dạng không gian ảo hoặc flash, phiên bản hiện nay (version 4) được thể hiện chuyên nghiệp hơn với tiêu chí: nhanh, gọn vì bỏ qua tất cả các trang trí vui vui. Tài giải thích: "Từ môn e-commerce cũng như đúc kết từ thực tiễn, mình hiểu rằng các nhà tuyển dụng hiện nay rất bận. Họ có thể không tiếp tục truy cập trang web của mình nếu sau 15 giây vẫn không hiển thị. Do đó, bằng mọi giá trong vòng 15 giây phải thu hút được họ, thậm chí chuyển tải đến họ tất cả thông tin cần thiết. Ngoài việc thiết kế web sao cho có tốc độ truy cập cao, tôi cũng đơn giản hóa ngôn ngữ và giao diện để nhà tuyển dụng không bị rối mắt và nhanh chóng nắm bắt thông tin".

www.tuantai.com được Tài rao trên nhiều trang web về tuyển dụng như vietnamworks.com, kiemviec.com… Cười toe khoe "đồng xu" trên má, Tài bật mí: "Mình đã nhận được mười mấy e-mail mời làm việc của các doanh nghiệp trong và ngoài nước chỉ trong khoảng thời gian 2 tháng đầu sau khi trang web hoàn chỉnh vào đầu năm 2005. Mình đang nâng cấp bộ search engine để nhà tuyển dụng có thể tìm thấy nhanh chóng trang web này trên các trang tìm kiếm qua từ khóa. Mình cũng sắp bổ sung thêm các thông tin về kỹ năng lãnh đạo, kỹ năng quản lý thời gian và các hoạt động ngoại khóa…".

Thiên Di
English Translation
contact@tuantai.com is an impressive email of Tran Tuan Tai, a 21-year-old student. Tai built up his professional website tuantai.com since 2004 to promote himself to future employers.

The whole website is in standard business English, with very simple and professional interface. "Shocked" was the word to describe my (the journalist) experience when viewing Tai's portfolio. Apart from an IELTS 7.5, Tai got high distinction in most of his courses and got many scholarships and awards. He claimed that he only included achievements which he has firm evidence. Tai's portfolio is also very impressive at his age with extensive experience in Finance, PR, market research, as well as being the HR Coordinator of RMIT Vietnam Business Club and many other activities.

Studying a Bachelor of Applied Science in Software Engineering at RMIT International University Vietnam, it was an assignment for Tai in his first semester to build a website that includes his resume. The assignment only required students to develop their websites at a personal level and upload them on RMIT internal network. While other only needed to pass this assignment, Tai had the idea of buying his own domain name to publish his resume and job application. Unlike colorful, cyberspace-themed or flash-enabled of previous versions, version 4.0 of Tai's website is more professional with these criteria: fast-loading, neat and limiting unnecessary decorators. "After doing my research in the e-Commerce course and drawing from best practice," he explained, "I understood that employers are business people who are extremely busy. They won't wait for your website to load. My target is that the recruiters can obtain all information they're seeking from an applicant in less than 15 seconds screening through my website. Besides optimizing loading time of my website, I also simplify the language and user interface in order to minimize distractions so that they'll concentrate more on the content".
tuantai.com has been published on many recruitment portals such as vietnamworks.com, kiemviec.com. Tai share that "I have received nearly twenty invitations from many foreign-invested and private companies only within 2 months after completing my website in 2005. I'm doing search engine optimization so that employers can quickly find this website by searching on search engines. I'm also enriching my portfolio with achievements in leadership, manage skills and other extra-curricular activities.
Link: Thanh Niên Online, Tự lập web để xin việc
3. RMIT IT Night, 2007
Date: 6 September 2007
Gist: IT Night at RMIT Vietnam
Giảng viên ngành CNTT và cựu sinh viên của RMIT Việt Nam sẽ trình bày về ngành này và ảnh hưởng của nó đối với cuộc sống hằng ngày. Hội thảo sẽ giới thiệu xu hướng nghề nghiệp và hướng phát triển trong lĩnh vực CNTT đồng thời giúp người nghe hiểu rõ về chương trình đào tạo CNTT tại RMIT Việt Nam được thiết kế theo nhu cầu nhân sự trong lĩnh vực này. Sinh viên và phụ huynh có thể biết thêm thông tin về các cơ hội việc làm mà thị trường CNTT đang có nhu cầu tuyển dụng và chương trình của RMIT Việt Nam có thể trợ giúp các cử nhân phá triển nghề nghiệp mình ra sao.

Đầu năm nay, theo báo Vietnam News, ngành CNTT dự đoán sẽ trở thành một ngành công nghiệp một tỷ USD vào năm 2010. Tuy nhiên một trong những yếu tố để đạt được thành công là có một nền giáo dục đạt tiêu chuẩn quốc tế. Từ năm 2001, RMIT Việt Nam đã bắt đầu đào tạo các chương trình đại học liên quan đến ngành CNTT. Cựu sinh viên của RMIT Việt Nam sau khi tốt nghiệp đã đạt được nhiều thành công trong sự nghiệp. Một số tiếp tục theo học lên bậc thạc sĩ tại nước ngoài hoặc bắt đầu công việc kinh doanh riêng. Các cựu sinh viên và sinh viên thực tập của RMIT Việt Nam hiện nay đang làm việc cho các công ty dẫn đầu về CNTT đặc biệt về ngành phát triển phẩn mềm như: FCG Vietnam, Global Cybersoft, TRG International, Sutrix Media, Avenue IT Solutions.

RMIT Việt Nam đã đưa vào giảng dạy một chương trình cử nhân CNTT mới chuyên ngành phát triển phần mềm do ĐH RMIT Úc biên soạn phù hợp với nền CNTT tại Việt Nam. Ngoài những kỹ năng thiết yếu, chương trình còn giúp sinh viên phát triển các kỹ năng giải quyết vấn đề, làm việc nhóm và sử dụng thành thạo tiếng Anh trong giao tiếp. Các cử nhân chương trình CNTT không chỉ được đào tạo để trở thành chuyên viên phát triển phần mềm. Trần Tuấn Tài, một cựu sinh viên RMIT Việt Nam nói "Đừng giới hạn bản thân với ngôn ngữ lập trình". Ngoài việc rèn luyện những kỹ năng cần thiết cho nghề lập trình và kỹ sư phần mềm, Tài còn được học để có thể làm việc trong nhóm và phát triển khả năng lãnh đạo. Tuấn Tài đã nhận được giải thưởng "Sinh viên lãnh đạo" của ĐH RMIT Việt Nam năm 2006 và hiện đang giữ vị trí phân tích kinh doanh tại công ty FCG Việt Nam.

Theo RMIT Việt Nam
English Translation
Details of my speech is explained here in this post: Develop Foundation Skills, then Tools
Link: Phần mềm Việt Nam, RMIT Việt Nam tổ chức hội thảo về CNTT
Link: Bản tin công nghệ, RMIT Việt Nam tổ chức hội thảo về CNTT
4. RMIT Vietnam students graduate in Ho Chi Minh City, 24/11/2007
Tai Tran received President's Award from Mr Charles F. Feeney, Founding Chairman of the Atlantic Philanthropies
Bachelor Degree of Applied Science in Software Engineering with Distinction, 2007
President's Award, 2007
Student Leadership Award, 2006
Membership certificate, Golden Key International Honour Society, 2006
HP Scholarship to RMIT, 2004
RMIT University today awarded 385 Australian degrees to graduands from RMIT Vietnam's Ho Chi Minh City campus. Among the awards conferred were Diploma's and Bachelor's degrees in Commerce, Information Technology, and Design, as well as Master's degrees in Business Administration and Education. A PhD was also awarded for research in the field of food hygiene in Vietnam. The 385 graduands received their awards from the Chancellor of the RMIT University, Professor Dennis Gibson A.O.

This ceremony celebrated not only the fourth graduation of the only off-shore campus of RMIT University, but also highlighted the success of RMIT Vietnam after seven years of operation during which nearly 1,000 students have been awarded Bachelors or Masters qualifications. These graduates have embarked on successful careers, started their own enterprises or undertaken postgraduate studies.


Addressing the graduands in the magnificent Ho Chi Minh Opera House, the RMIT University Vice Chancellor and President, Professor Margaret Gardner A.O., Chair of RMIT International University Vietnam, commented "When you began your degrees, you embarked on a journey. Today's conferring of awards does not mark the end of that journey – it is one of many steps"
"You arrived today as graduands and you will walk away as graduates – equipped to meet the challenges of the world. Your experience with RMIT, I am sure, has been memorable and I hope that you will continue your relationship with us as alumni." she said.

Mr Charles F. Feeney, Founding Chairman of the Atlantic Philanthropies and keynote speaker at the graduation ceremony, awarded the 2007 President's Award to Tran Tuan Tai, the undergraduate student who embodies all that the University wishes a graduate to exemplify: high academic achievement, social responsibility and service to the university community.

"Being in RMIT Vietnam is not only about achieving personal success, but also about creating opportunities for everyone around you. I was given full support to organize Career Days to create employment opportunities for RMIT Vietnam students and recruitment opportunities for companies in the industry, Charity Programs to give opportunities to better living condition for less fortunate people, and networking functions to offer opportunities for investors to understand more deeply about Vietnam's great development potential", Tuan Tai said.

Also awarded at the ceremony were the 2007 RMIT Vietnam Teacher of the Year Awards. These awards are made to teachers who have made significant contributions to learning and teaching at RMIT Vietnam. This year the awards went to Ms Claudette Clerc, a lecturer in the English program, and Dr Hannarong Shamsub, a lecturer in the academic programs.


As the Asian hub of RMIT University, RMIT Vietnam assists in the development of human resources in Vietnam and the region by providing opportunities for students from around the world to belong to an international educational community that supports them to achieve their full potential as responsible, passionate and creative citizens who can shape a dynamic global future.

RMIT Vietnam confered 78 internationally-recognised degrees to its Hanoi graduands on Thursday 22 November 2007.

Tai Tran's Speech – RMIT President's Award 2007

Link: RMIT Vietnam Website, RMIT Vietnam students graduate in Ho Chi Minh City, 24/11/2007



Sinh viên RMIT Việt Nam tốt nghiệp tại thành phố Hồ Chí Minh – 24.11.2007

Hôm nay, Đại học RMIT trao 385 bằng tốt nghiệp của Úc cho những tân khoa của RMIT Việt Nam tại Cơ sở Thành phố Hồ Chí Minh. Khóa này gồm những sinh viên tốt nghiệp bậc Cao đẳng và Cử nhân ngành Thương Mại, Công nghệ thông tin và Thiết kế, Thạc sỹ ngành Quản trị Kinh doanh và Giáo dục, và Tiến sỹ nghiên cứu trong lĩnh vực vệ sinh thực phẩm tại Việt Nam. Chủ tịch Hội đồng Đại học RMIT, Giáo sư Dennis Gibson A.O trao bằng tốt nghiệp cho 385 sinh viên.

Buổi lễ không chỉ kỷ niệm lần thứ tư trao bằng tốt nghiệp của cơ sở ở nước ngoài duy nhất của Đại học RMIT, mà còn đánh dấu sự thành công của RMIT Việt Nam sau bảy năm hoạt động có gần 1,000 sinh viên được nhận bằng Cử nhân hay Tiến sỹ. Những tân khoa vừa bắt tay vào sự nghiệp thành đạt, bắt đầu thành lập công ty riêng hay tiếp tục học lên cao học.

Long trọng tuyên bố những tân khoa tốt nghiệp tại Nhà hát Lớn Thành phố Hồ Chí Minh, Chủ tịch Hội đồng Quản trị Đại học Quốc tế RMIT Việt Nam kiêm Giám đốc Đại học RMIT Úc, Giáo sư Margaret Gardner A.O., nhận định "Khi các em bắt đầu có học vị, các em đã bắt đầu cuộc hành trình. Việc trao bằng tốt nghiệp hôm nay không đánh dấu sự kết thúc của cuộc hành trình – đó chỉ là một trong nhiều bước."

"Hôm nay các em đến đây như những tân khoa và các em sẽ bước đi như những sinh viên tốt nghiệp được trang bị kỹ lưỡng để đối mặt với thế giới. Tôi tin chắc các em không thể quên được kinh nghiệm có tại RMIT và tôi hy vọng các em sẽ tiếp tục gắn bó với trường."

Ông Charles F. Feeney, Chủ tịch sáng lập Tổ chứ từ thiện Atlantic và là người phát biểu chính tại buổi lễ tốt nghiệp, trao tặng Giải thưởng Sinh viên Xuất sắc năm 2007 cho Trần Tuấn Tài, sinh viên tốt nghiệp tiêu biểu với thành tựu học thuật cao, trách nhiệm xã hội và phục vụ cho cộng đồng Đại học.

Tuấn Tài phát biểu "RMIT Việt Nam không chỉ đạt được thành công cá nhân, mà còn tạo nhiều cơ hội cho mọi người xung quanh. Tôi đã nhận được giúp đỡ để tổ chức sự kiện Career Days tạo cơ hội nghề nghiệp cho sinh viên RIMT Việt Nam và cơ hội tuyển dụng cho nhiều công ty trong ngành công nghiệp, Chương trình Từ thiện mang đến cơ hội cho những người kém may mắn điều kiện sống tốt hơn, và mạng lưới hoạt động đưa ra nhiều cơ hội cho nhà đầu tư hiểu sâu hơn về tiềm năng phát triển lớn của Việt Nam."

Tại buổi lễ Giải thưởng Giảng viên RMIT Việt Nam của Năm 2007 cũng được trao tặng. Giải thưởng này được trao tặng cho những giảng viên đã đóng góp đáng kể cho việc dạy và học tại RMIT Việt Nam. Giải thưởng năm được trao tặng cho cô Claudette Clerc, giảng viên chương trình tiếng Anh, và Tiến sỹ Hannarong Shamsub, giảng viên chương trình học thuật.

Là một Trung tâm Châu Á của Đại học RMIT, RMIT Việt Nam góp phần trong sự phát triển nguồn nhân lực tại Việt Nam và khu vực bằng cách cung cấp cơ hội cho sinh viên từ trên khắp thế giới để gia nhập vào cộng đồng giáo dục quốc tế mà giúp họ đạt được toàn bộ tiềm năng như những công dân có trách nhiệm, đam mê và sáng tạo, người có thể định hình một tương lai toàn cầu năng động.

RMIT Việt Nam trao bằng quốc tế cho 72 sinh viên tốt nghiệp tại Hà Nội vào thứ Năm, ngày 22 tháng 11 năm 2007.

Link: RMIT Vietnam Website, RMIT Vietnam students graduate in Ho Chi Minh City, 24/11/2007
5. Personal Branding Skill
Please read a separate entry Please here
By